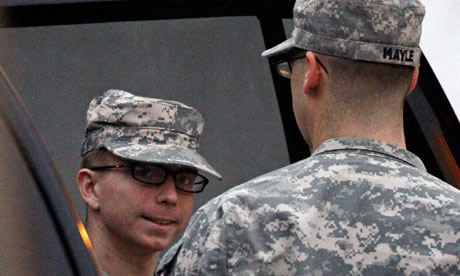 According to an article published today on MSNBC, attorneys for Bradley Manning, the WikkiLeaks guy, are planning a Gender Identity Disorder defense to show diminished capacity due to mental disorder.
From the article:
"The defense stated Saturday that Manning, 24, had written to one of his supervisors when he was stationed in Iraq before his arrest and said he had concluded he was suffering from gender identity disorder, which is classified as a medical disorder in the International Statistical Classification of Diseases and Related Health Problems. He included a photo of himself dressed as a woman in the letter and said the issue was affecting his ability to do his job or think clearly."
More:
"Manning is charged with aiding the enemy and violating the Espionage Act. If found guilty, he could be sentenced to life in prison.
If Manning's case does go to court martial, his attorneys will apparently be just the second defense team to attempt to use a gender identity disorder as at least a partial defense in a military case, according to Jack King, a staff attorney with the National Association of Criminal Defense Attorneys specializing in mental health issues.
The only other case on record, he said, involved Karen Davis, a Navy electrician's mate, second class, formerly known as Charles Marx, who was prosecuted in the mid-1980s "for wearing women's clothing (a skirt, nylons, a women's blouse, a bra, women's fashion jeans, nail polish, a purse, and a wig) on numerous occasions while at the Puget Sound Naval Shipyard."
In appealing her court martial in 1988, Davis' attorneys argued that such conduct was not illegal. They also stated that, while living as Marx, she had been diagnosed by several Navy psychiatrists as having gender identity disorder and that cross-dressing was therapeutic.
The military appeals court allowed her dishonorable discharge to stand for the reason that cross-dressing was "prejudicial to good order and discipline and discrediting of the Armed Forces."
King said such a case would be unlikely today, given the greater understanding of gender identity disorder.
"Now, if a person could show that because he or she believed themselves to be a member of the opposite sex they had an irresistible impulse to cross-dress, they would in all likelihood qualify for a medical discharge," he said.
Several attorneys who work with transgender legal issues said they were not aware of a gender identity disorder defense being raised in a civilian court, and King said it's easy to see why not, noting that such a diagnosis "doesn't prevent you from knowing right from wrong." The disorder is most often raised in criminal proceedings as part of an overall insanity defense, or by expert witnesses arguing that a defendant is so mentally damaged that he or she should be committed, he said."
Read the whole article by clicking the link above.
Photo is from The Guardian.