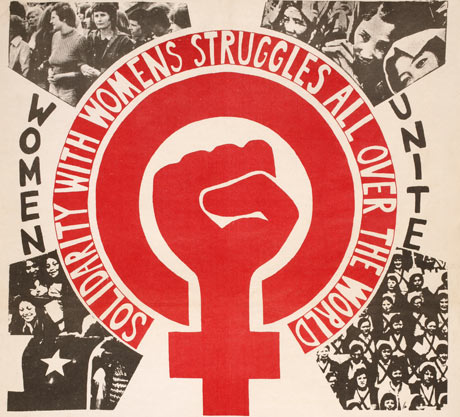 FIGHTING THE LIE OF "TRANS"
Bev Jo
Women don't have it easy and Lesbians have it even harder. We are oppressed in patriarchy — by institutions and individuals – we are oppressed by males, by het and bisexual women (who women choose to love is a choice, not something as trivial as "sexual orientation"), and also by men who claim to be women and men who claim to be Lesbians. Not only do they appropriate our identity, including some saying they are more woman than real women (though that's true in terms of men's definition of women). Anyone who protests gets death threats. (I have witnessed horrific Lesbian wars since 1970, but I have never seen or heard another Lesbian, no matter how severe the disagreement, threaten another Lesbian with death.)
When you let a woman think for herself and don't bully or threaten her, don't call her a "bigot" and "transphobic," compare her to nazis, and don't use pseudo-feminist politics against her, what actually is her instinctual reaction to men claiming to be women?  From what I've seen and read, it's an immediate refusal to accept an obvious lie.
But then the pressure starts and most succumb to the harassment and also the flattery, impressed with the attention of these men since, of course, most women have learned the patriarchal rule of valuing men more than women and "keeping the peace" at any cost. Those who think for themselves will see the incredible narcissism of these men. They will also see how these female impersonators have no clue about what it means to be female. If asked, the "transwomen" men will reveal their fetishized, pornified, and objectified image of women that has nothing at all to do with us. It's also obvious that they have been watching too much male-directed "lesbian" porn.
You can see female impersonators talking endlessly about themselves, groping Lesbians they don't know in sexually invasive ways, and you can hear them trying to imitate their idea of what a woman is, but their domineering and aggression still comes through.
It is all so obvious, yet Lesbians try so hard to understand and be compassionate and not hurt anyone's feelings.
But far more than feelings are being hurt. Real women and Lesbians are being bullied and stalked, lectured about how oppressive we are for staying with the truth, and we are losing our last tiny bit of remaining female-only space. We are also getting death threats.
You know what we call men who don't take "no" for an answer?  Try saying no to these men and see what happens.
I've been trying to say no for over forty years to one who stalked me as a teenager right into my Lesbian community, and I still can't get away. (When he could not get me to be his girlfriend, no matter how hard he pushed, he changed his name to one as close to mine as possible and now slanders me and other Lesbians.) Do know that some of these men have learned well what lies to tell. This one is now saying that he always felt like a girl, which is not at all what he said when he first went after me. He was incredulous that I was in love with another girl, and my being a Lesbian meant nothing to him until he later figured out that he would get a better deal with Lesbians than het women. As a typical het male, he was too pathetic to get into the power positions he later got into in the Lesbian community.
No female should be forced to be in "women's" space with any man who has sexually harassed her. How many of these men have raped?
These men have histories. Many of them don't declare they are Lesbians until decades after living with full heterosexual male privilege and sense of entitlement (including the much higher incomes that men get) with wives and children.
But having het male privilege is not enough for them. Some write about hating and being bitterly jealous of little girls who they fantasize as having the "pink bedrooms and ballet lessons" that they were denied. Not many girls want or get those things, but most little girls do get sexually assaulted and all are sexually harassed by boys and men. Why are these men so oblivious to the reality of what real girls suffer?
I have yet to read or hear a story from a man claiming to be a woman that sounds remotely like what a girl felt growing up. On the television series, "Sex Change Hospital," a man says he knew he was meant to be a woman because when he was four, he got excited seeing his mother's bra and put it on. Do you know of any girl or woman "excited" from seeing her mother's bra?  (There is nothing about a bra that is intrinsically female – it's a device men manufacture and tell women to wear so their breasts stick out.) This man's wife was surprised he wanted to be a woman because he was such a "macho" man.
Female impersonators never look like real women. They are obsessed with the artifice that men demand women adopt. Their idea of "womanhood" is male-defined, male-identified "femininity," so that they look like drag queens with their heavy, ugly makeup, plucked unnatural eyebrows, garish costumes, etc. When this man's surgery was finished, he asked his father to look at his new "vagina." Does that sound like a woman to you?
Meanwhile, the wives of these men have lost out on the deal that het women make with their husbands, which is heterosexual privilege. (Although some do still get the monetary benefits since some men who claim to be women get a contract guaranteeing their male salary post surgery.)
And then there are the 80% of "transwomen" who don't have surgery and are some of those who invade our last spaces like the Michigan Womyn's Music Festival so they can expose their pricks to girls and women.
Besides the immediate knowing that these men are not women, why do those who are conned believe that a male medical system with male surgeon, synthetic hormones, and castration can make women out of men? Do they really think that we are just the absence of male parts? Would women so easily believe that someone could use those means to change race or species?
"Transphobia" is a lie. Of course women object to and find it offensive when men mimic us with misogynist ideas of "womanhood." It's like expecting African Americans to like Euro-Americans putting on blackface and doing minstrel shows. It's insulting and oppressive. Do Lesbians bemoan how oppressed transvestites and drag queens are? They are caricaturing female oppression, which is exactly what men claiming to be us are doing.
Part of the problem is that throughout patriarchy there is an ingrained sense that all females somehow belong to all males, to comment on, to order, to possess, to oppress, to own. That is part of why men can feel so comfortable with just appropriating our identity. We are their possessions to play with as they like.
Drag queens and "transwomen" ridicule us. We are not "transphobic." They oppress us.
II
STRATEGY
It's a basic weapon of patriarchy to divide women. Men are appropriating Lesbian identity and re-writing our Lesbian history and getting into power positions in our Lesbian community. They go where they want and take what they want, ignoring our objections, which is a very male trait. They enjoy the attention of getting women to fight over them. They have no respect for Lesbian culture and community and try to destroy what little we have.
I know very few Lesbians who do not defer to these men and obey them by referring to them as "transwomen" and give them our pronouns. Those of us who refuse to betray our own kind are yelled at, insulted, and threatened. (If you don't believe me, try it.) Our Lesbian culture, which is SO liberal and tolerant, does not allow any Lesbian to respect her own heart and mind about how she thinks of these men. The men simply come first.
The enforcement of this mass lie is like a brainwashed cult, with absolute obedience demanded. You are not allowed to think for yourself or speak for yourself on behalf of other Lesbians. Your wanting to protect and defend your beleaguered and almost destroyed people is called "hatred." Middle class rules of "etiquette" and manners are enforced. (I have literally been told to obey Wikipedia's etiquette on how to properly address a "transwoman.") And we certainly are not encouraged to make a fuss over something as irrelevant as the truth. We are treated in parental and controlling ways where we are virtually told "How dare you talk back!"
Some "radical feminists" have been so desperate to try to figure a way to not lose more of what we have that they have resorted to betraying themselves. They are trying to work with some of these men as allies, hoping that they will police other female impersonators. They don't seem aware of past feminist history in regards to trusting men. It doesn't work. It never will. Those who don't know history are condemned to repeat it.
The point at which you give up your basic knowledge to participate in a lie, you have lost the struggle and they have won.
What these men want more than anything is for us to accept them as women, publicly refer to them as "transwomen" and give them our pronouns. Agreeing to call them "transwomen" is betraying real women and giving these men exactly what they want. It also opens the door to losing everything. They can then call us more names, such as "misogynist," for refusing to give into their increasing demands.
It is not sensible strategy to cooperate with defining us out of existence by defining men as any kind of women.
The next stage of complicity is to disrespect and betray other Lesbians and women by telling us to shut up on behalf of these "special women" who are actually men. It is considered more important that they might be offended by us telling the truth than that real Lesbians are insulted and silenced. This has happened on more than one "radical Lesbian Feminist" facebook thread. How is this any different than what has been happening for years where men are lauded at the expense of the Lesbians and women who are oppressed by them?
Have these "radical feminists" changed their plan for their own status and careers or because they mistakenly think this is a good strategy? So few of us have the courage to say the truth, yet you still want to silence us? For men?
This reminds me of Neville Chamberlain triumphantly waiving his worthless piece of paper with Hitler's signature, declaring he had secured "peace in our time," while betraying Czechoslovakia to Hitler.
III
Why Not Try this Strategy?
Instead of trying to work with men who are part of the problem, why not organize a much bigger group who could get righteously outraged over the issue of men invading women's space? I'm talking about het women, who certainly outnumber the "good" men claiming women's identity. I think this has never been attempted simply because of fear of their lesbophobia and Lesbian-hatred.
Though the loyalty has only gone one way, in terms of Lesbians supporting gay men, many Lesbians are afraid to break rank even to be publicly opposed to NAMBLA (North American Man-Boy Love Association.) I think the fear is that all of het women's fear of queers will surface and that somehow we will be betraying gay men and "transpeople," as if we really have anything in common with them.
Lesbian Feminism came out of alliances with het feminists. Lesbians soon separated because of het feminists' Lesbian-hatred (though a lot of het feminists also came out.) But really, we are more natural allies with women than any kind of men, especially since it is all a choice and any het woman at any age can decide to join us. They are also oppressed by men and patriarchy. At this point, I think I trust even non-feminist het women to recognize "transwomen" as simply the men that they are more than I do some Lesbian feminists. Certainly these women would not want female impersonators using the same public restrooms as their little girls. This isn't "transphobia." This is sensible women recognizing that these men, like all men, are prurient and dangerous to girls.
So how about it?  Has anyone fighting to stop female impersonators from invading our space considered allying with het women on this issue? I would think we might even get a few concerned het and gay men who are fed up with the bullying of female impersonators and are worried about laws changing that might make their daughters vulnerable.
Whatever strategy you choose, remember that it is important to not be conned or mindfucked in any way by men claiming our identity. They are not our friends or allies, no matter how much the LGBTQuerty is shoved down our throats. That group has never supported Lesbians. We have always supported ourselves. So let's not give them any bit of what they are demanding – FEMALE IMPERSONATORS ARE NOT WOMEN!  Please, do not support them by calling them "transwomen," "transsexuals" or "transgender."
Instead, please do what Lesbians rarely do — support other Lesbians. Put females and Lesbians first for a change, since no one else does.


For more of Bev Jo's writings visit her site at:  Bev Jo Radical Lesbian