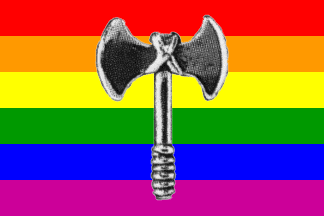 The National Center for Lesbian Rights started a "dialogue" today on the issues being raised by Lesbians about the NCLR (see my previous post here).
Here is what Kate Kendell posted:
———————-
Some members of the lesbian community have recently said that in their opinion NCLR should not work for the whole community, but only for lesbians. That is a conversation we are always willing to have. We believe the best way to ensure freedom and justice for lesbians is to recognize that the issues facing our community—and indeed, all those oppressed and living with injustice—are inextricably intertwined. We represent lesbians in every aspect of our work—in our family law work, in our asylum cases, in our youth and elder projects, in our sports project, in our employment discrimination work, in our legislative work, and in our federal administrative advocacy. And our organizational values are deeply grounded in the lesbian-feminist and civil rights movements, as well as a commitment to economic justice.
We believe that the fates and futures of lesbians are intertwined with our entire lesbian, gay, bisexual, and transgender community, and we must work together until the arc of justice includes full equality for all. Until then, we'll remain committed to fighting for the safety, security, and liberation for all LGBT people.
In solidarity,
Kate Kendell, Esq.
Executive Director, National Center for Lesbian Rights
—————————–
And
HERE is the link
to that conversation. If you have a Facebook account please post your concerns to that conversation. Thank You!